Comparing Ford's Heavy Duty Dual Real Wheel Trucks: The F-350 vs. F-450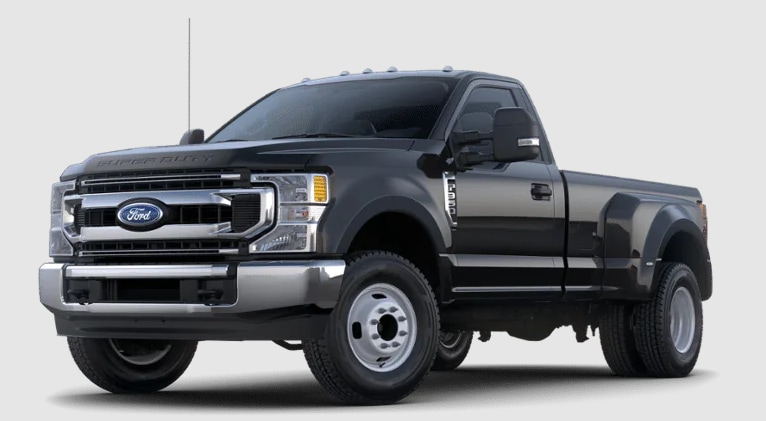 2022 Ford F-350 Dual Rear Wheel (DRW)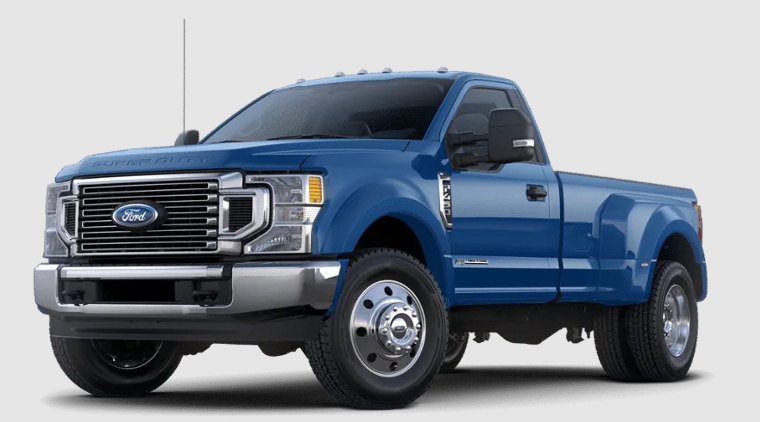 2022 Ford F-450 Dual Rear Wheel (DRW)
Quality Lineup of Dually Ford F-350 and Ford F-450 Pickups in Layton
When you live in Ogden, there's no room for a runner-up. You need undeniable power and capability when those tough jobs arrive. Something that can look a few thousand pounds in the eyes without blinking. You need a vehicle that is built Ford tough. That's why at Ed Kenley Ford, we've got a healthy selection of heavy-duty, 6-wheel pickups strong enough to carry the weight of your world on their shoulders. Multiple engine options help the Ford F-350, and F-450 become two heavy-duty Pickups you can count on.
Ford F-350
The standard engine is a powerful 6.2L V8 engine with the strength of 385 horses' underneath its hood and 430 lb.-ft. of torque. The 6-speed automatic transmission is equipped with rear-wheel drive for more control on the highways and city streets of Syracuse, UT. But, like every super-duty Ford pickup, you can always have more. The available 7.3L V8 Powertrain generates up to 430 horsepower and 475 lb.-ft. of torque. The 6.7L Power Stroke® Turbo Charged diesel V8 engine is the most potent engine available. You'll have 450 horsepower with an incredible 1,050 lb-ft. of torque.
Ford F-450
Where do you want to start? How about starting with the standard 6.7L Power Stroke® engine for incredible capability and performance in Ogden? If that's not enough power for the job, there's an available 7.3L V8 engine with best-in-class horsepower and torque. We're talking about 430 horsepower and 475 lb.-ft of torque underneath the hood of your Ford F-450. If you want more, the Ford F-450 can give you. The third-generation 6.7L Power Stroke® V8 Turbo Diesel engine ramps up to 1,050 lb. ft. of torque at 1,600 rpm and best-in-class horsepower of 475 at 2,600 rpm. That's more than enough strength to carry your construction equipment from one end of Layton to the other.
Ford F-350
When properly equipped, the Ford Super Duty® also features a 37,000 lb. gooseneck tow rating and the best maximum available 32,500 5th wheel tow rating in its class. When equipped with the heavy-duty payload package, the max payload on the F-350 climbs to over 8,500 lbs. That's more than enough power to get any job done from Layton to Syracuse, UT.
Ford F-450
You've seen the power that comes with the Ford F-450, but now, it's time to see what you can do with all that power. The Ford Super Duty F-450 has the best maximum available gas conventional towing rating in its class. What does that mean for you? It means you'll have no problem pulling over 7 tons of weight without breaking a sweat. That's an available 37,000 lb. gooseneck tow rating and best maximum 32,500 lbs. of towing capacity. That's what you can pull behind your heavy-duty Ford. But inside your flatbed, you'll have up to 7,850 lbs. of payload capacity. That's a whole lot of dirt, sand, gravel, equipment, logs, or whatever else you need for the job.
Ed Kenley Ford Can Help You Find The Right Truck For Your Needs!

Both super-duty pickups have available Tremor Off-Road Packages and multiple safety enhancements from trailer sway and cameras to blind-spot monitoring, lane-keeping alert, and more. Excellent safety features, interior comfort, and dynamic capability make this lineup of Ford Super-Duty vehicles second to none.
When you're ready to feel the power for yourself, you can stop by Ed Kenley Ford and test drive any of our Dually pickups. We have some of the most capable pickups to handle any construction or landscaping job from Layton to Odgen. Go ahead and browse our complete inventory of Ford pickups and find the vehicle that